Inspiration
"Follow your bliss and doors will open where none existed" - Joseph Campbell
Why should you care about art?
Art can illuminate the human condition and be a catalyst to social change ...it can foment revolution...it can make a difference in individuals' lives...in your life. This is the story of how, with your help, art can help change human consciousness around violence against women, begin a healing process that will make room for women's voices, and ultimately result in a balance of energy that will allow women and men, and everything we interact with to thrive…this would change everything!
For me, this story began when I was 7-years old and my best friend was a 9-year old little girl. One day I was told that she had been raped right outside of my house. Of course, I didn't know what this meant, but I was told.... in way too much detail. It was incomprehensible, horrible, I never forgot, I never understood...it haunted and still haunts me. I thought...that man couldn't have realized my friend was a person, that if he really could see her, that if he realized she was, this wouldn't have happened… it couldn't have. I have been working on solving this problem ever since then.
I grew up in Berkeley, San Francisco and Santa Cruz in the 60's and 70's, in the philosophical revolution and turbulence of those times. I came to believe that we are all one and that harm to another is really harm to self. I learned to deeply appreciate feminine energy, influence and strength…and realized that the objectification of women imprisoned women and also men. I saw first-hand that one person, or a small group of people, can start a movement that can make a difference and change the course of history. My sense of urgency, personal agency and responsibility runs deep.
In my 20s I discovered sculpting and in particular the joy of seeing and then sculpting women; of the healing energy and power that I saw when women were not afraid...when they could be present, when they could be themselves, speak their minds...and the heroism it takes to do this in the face of real danger in their daily lives. At about this time, I read Joseph Campbell and was struck by the passage: "follow your bliss and doors will open where you never knew they existed". It was on the birth of my own daughter that everything I had been working on and thinking about came together and I realized that my bliss was to carry this message through art.
So why do I sculpt nudes? For more than 25 years I have been sculpting women. At first glance, they appear to be classical figurative nudes, but they are not. They are radically modern...revolutionary. I intend to directly challenge the notion that the female body must always carry a sexual charge. This is dangerous and we need to change the way we think about it. With the female body demystified it is the feeling, the individual, the energy, the strength, the power, the beauty, the person that remains. As a Burning Man artist/attendee I have experienced a place where this is real. The women I have sculpted are safe, present. They have chosen their own expression, so you will see the actual woman, the person, her energy and spirit. It is my intent that these sculptures exude this healing energy and inspire us to take action; to finally say enough is enough.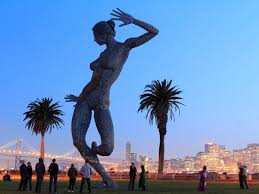 Click on the photo for more information on each piece: